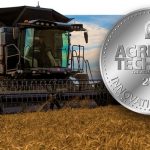 New IDEAL from Massey Ferguson combine wins silver in DLG Innovation Awards
Massey Ferguson has scooped a Silver Medal for the newly-launched IDEAL combine harvesters in the prestigious Innovation Awards presented by the DLG (German Agricultural Society).
Developed by its parent company AGCO, IDEAL from Massey Ferguson is a completely new, high-performance combine range designed using requirements taken directly from farmers and operators around the world. The range sets new levels of performance and efficiency in the field and includes three models from 451 to 647hp.
In awarding the Silver Medal to the MF IDEAL, the citation from the expert committee said that "the IDEAL combine is the first combine in years to be developed from scratch and to feature special technology."
"This is a great result. We are confident that the MF IDEAL is a real winner and are honoured to receive the award," says Thierry Lhotte, Vice President and Managing Director, [...]