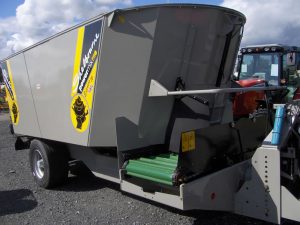 The Powermix Pro range of complete diet feeder is available in both single and twin vertical auger models that gives a range of mixer feeder capacities from 9 cubic metres up to 25 cubic metres.
A uniquely designed central auger carries out both the chopping and mixing functions by lifting the ration ingredients up the centre of the mixer from where they move to the outside to be drawn back down to the bottom to begin the cycle again. This simple action ensures both an extremely fast and efficient mixing process and a totally uniform mix with even the smallest ingredients being evenly distributed through the mix.
Adjustable retarder plates can be fitted in the corners of the tub in order to slow the material for faster more efficient chopping. Adjustable static blades can be fitted here when high speed chopping is desired.
The Powermix feeder wagon also gives you the ability to use a wide range of ingredients in your mix, roots can be chopped and mixed with other ingredients in one operation and even big bales of hay, straw and silage can be added whole into the feeder wagon to be chopped down and incorporated to produce a uniformly mixed diet.
A series of blades fitted to the auger make fast work of chopping long fibre big bales and allowing you to use big bale silage in the same way as clamp silage.
By lifting the mix ingredients up the central auger this prevents jamming and reduces the horsepower requirement to drive the mixer and places much less pressure on the working parts of the machine.
The unique volcanic mixing action of a Powermix ensures a fast, accurate and consistent mixed ration every time, so even expensive and fine textured purchased feed ingredients are evenly distributed through the mix putting an end to selective eating by your animals. The consistency of mixes produced by a Powermix feeder wagon ensures that an accurately formulated ration will meet the nutritional requirements of your animals every time and thus maintain herd health and cost effective production.
Recent research also suggests that the 'open structure' of a diet produced in a Powermix feeder allows better utilisation of the nutrients over an identical mix produced in a conventional mixer.
The following features set the Powermix feeder wagon above other mixers currently available,
More utilizable volume ( an 11m3 powermix has the same useable volume as a 14m3 paddle mixer) The 22m3 Powermix will comfortably hold 10 tonnes of feed (dry matter dependant).
Low tractor horsepower requirement (as little as 60hp for a 9m3 machine)
Will chop and mix root crops in one operation
Will chop and mix whole big bales of hay, straw and silage
A totally uniform and consistent diet mix
Easy to use and maintain
A range of sizes and feed out options to suit virtually every farm
A watertight hopper allowing high levels of molasses and liquid feeds to be used
Unique parallel flighted auger design for faster mixing and chopping
12 sided tub naturally retards the flow of material and holds the feed against the knives for faster chopping
Simple durable gearbox drive
Modular range means machines can be easily expanded