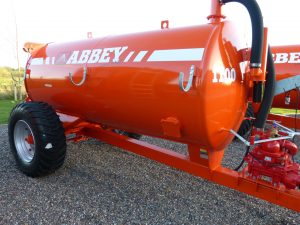 The Abbey Machinery Slurry Tankers range caters for the 'Total Cow' by handling the waste product in an economic and environmentally way. It consists of the most extensive range of tanker models and sizes available for today's farm and contracting customer. Each tanker comprises of key specifications that make the Abbey Machinery Tanker the best suited tanker to meet the demanding customer needs.
The Abbey tanker consists of 5 range options;
Standard Tanks 900 – 2000
Premium Recess Tanks 1600-2000
Premium Plus Recess Tanks 1600-3000
Tandem Tanks 2000-4500
Tridem Tanks 3000-7000
The Abbey standard tanker range consists of 5 different sizes from 900 (4100ltrs) up to 2000 gallons (9092 ltrs) with a variety of tyre options. The standard tanker range as with all products from Abbey Machinery is manufactured to highest build specification and quality standards.
Standard Equipment
• BATTIONI MEC 9000 VACUUM PUMP
• HYDRAULICS BRAKES
• LED LIGHTS COMPLETE WITH SEALED WIRING LOOM
• HYDRAULICALLY OPERATED HEAVY DUTY OUTLET VALVE
• INVERTED SPREADING PLATE
• ABBEY DT DOUBLE TRAP PUMP PROTECTION SYSTEM
• 20″ (500mm) REAR DOOR
• 15ft ( 4.5m) OF 6″ (150mm) SUCTION HOSE
• 1 X 6" (150mm) BLANK FILL POINT WITH 2″ WASH TAP
• 1 X 6" (150mm) QUICK ATTACH FILL POINT
• 2 X 6" (150mm) BLANKED OFF FILL
Slurry Tankers Features
Collared Dished Ends
Collared dished ends which are unique to the Abbey tanker range provide increased additional strength. These collared dished ends are passed into the cylinder and have an over lap of 45mm from the end. This process gives extra strength in both front and in the rear of the cylinder along with the built in baffle plates on the recess and tandem models making the Abbey Tanker range the strongest built tanker on today's market.
Weight Sensing Sprung Drawbar
Abbey Machinery has pioneered the weight sensing parabolic leaf spring system for today's demanding market, with 50kph tractor common on the road today and driver comfort and fatigue to the fore for today's operators. This system automatically senses the weight in the tank and the springs work accordingly.
Abbey Chassis Construction
Abbey Machinery has no rival in the way it produces and manufactures its slurry tankers. Abbey has pioneered the low centre of gravity characteristic in all its tanks by specifically designing a unique folded full length chassis, in the recess and tandem ranges, the heavy commercial axle is integrated into this chassis. This dramatically lowers the tankers centre of gravity.
Patented Abbey Double trap system
The Patented Abbey Double trap system ensures maximum pump protection whilst maximising performance of the vacuum pumps. Trap ball sits at top of tank allowing maximum capacity to be carried.
Battioni Pagani Vacuum Pumps
At Abbey Machinery we fit the MEC II vacuum pump from Battioni Pagani, a worldwide leader in design and manufacture of revolving vacuum pumps.
These pumps offer a host of features including;
Crash Protection System – Sliding flange assemble allows the rotor to drop in the case of vanes breaking or foreign bodies entering the pump this ensures the vacuum pump is protected at all times.
MEC II robust compact in design ensures the pump is ideal for challenging agricultural use without compromising performance making